Welcome to my online home!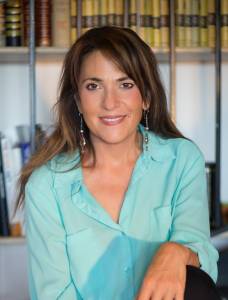 Here you'll find info about me and my books and what's coming up next. The last few years have been a wild ride with the book industry changing so fast... and there are more exciting things to come! Please sign up for my enewsletter, and come back here for updates as they occur, or follow me on Instagram, FB... you know the drill!

Thanks so much for your ongoing support for my projects. Happy Reading!

Stephanie Bond
(Photo: Tom Cannon Photography)
Latest Books: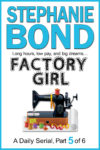 In FACTORY GIRL, a young woman struggles to overcome her environment and poor decisions she made when she was too young to understand the consequences. Dare she dream of a better life, one that might even include love? A humorous, poignant story of grit and determination.
Latest News/Blog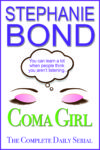 Because so many of you have asked for more COMA GIRL stories after the 6-month daily serial ended, I'm thrilled to let you know COMA GIRL has been optioned by CBS Studios for TV series development!  Words can't express how excited I am, and it wouldn't have happened without you, dear readers, turning COMA GIRL […]