A book 20 years in the making!  Early in my career I wrote articles for my local writing chapter newsletter. After I became published I gave workshops on craft, the writing life, and the business of writing. For five years I wrote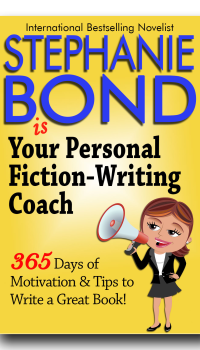 a blog about writing. My friends have been bugging me for years to put all those bits and pieces together, and wow, it was harder than I thought it would be. (Seriously, I used this book to help me finish this book!) The problem was how to present all those nuggets of advice in digestible bites that would accumulate in a meaningful way into a manual on writing a novel….yet would still be motivational and a refresher for writers at all levels. Personally, I need a little dose of inspiration every day, so I came up with Your Personal Fiction-Writing Coach:  365 Days of Motivation & Tips to Write a Great Book!  The idea is to give you a year's worth of encouragement and information, to consume either in one sitting, or a little at time, whatever pace works best for you!  I think everyone has a book in them.  If YOU have ever thought about writing a novel, I hope you'll download a sample to see if you think this book would be helpful.  Makes a good gift, too, if you know someone who needs a nudge to get their novel underway or finished!  Happy writing, all!
PDF files!  To download and/or print the Imagination Drills from Your Personal Fiction-Writing Coach, click here!