Visit the FACTORY GIRL serial page every day to read the story for free. Or if you need to catch up or prefer to binge-read, The FACTORY GIRL, parts 1-6 e-novellas will be available exclusively from Amazon at the beginning of each month, June-December!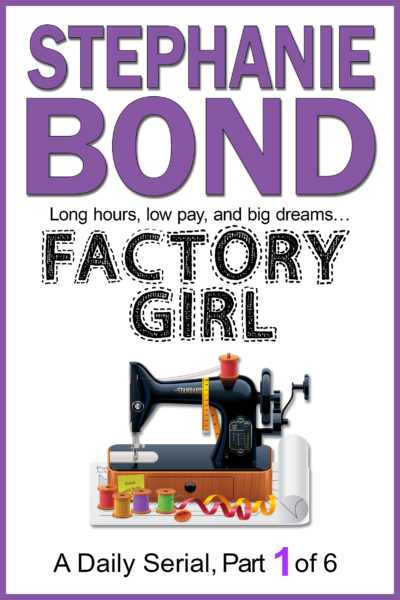 Long hours, low pay, and big dreams…
In FACTORY GIRL, a young woman struggles to overcome her environment and poor decisions she made when she was too young to understand the consequences. Dare she dream of a better life, one that might even include love? A humorous, poignant story of grit and determination.
The Part 1 novella is JULY, Part 2 is AUGUST, Part 3 is SEPTEMBER, Part 4 is OCTOBER, Part 5 is NOVEMBER, part 6 is DECEMBER.
(In total there are 6 parts to FACTORY GIRL.)
Don't miss out on this fun story everyone is talking about!
---

Available in eBook exclusively from Amazon:
Part 1
---
Part 2
---
Part 3
---
Part 4
---
Part 5
---
Part 6