I'm happy to announce the next full-length installment of the BODY MOVERS series, 8 BODIES IS ENOUGH!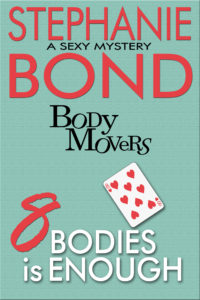 In 8 BODIES IS ENOUGH, Carlotta and the gang head to Las Vegas, each with their own secrets and motivations. In this book, Carlotta finally learns the story behind her parents' disappearance.  And lots of other stuff happens, too!  fyi, I'm tying up a LOT of loose ends in this book so the characters will all start in a fresh place in book 9…I hope you enjoy it!   Click here to order from your favorite online bookseller. 
Note:  Print version also available from Amazon!